Macworld Expo 2011: Best of Show Winners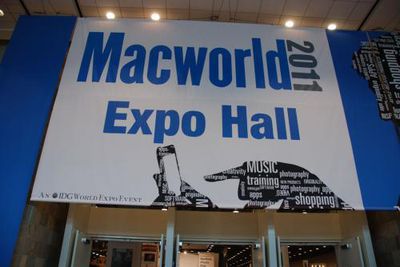 Macworld magazine
highlights their "Best of Show" awards for products shown at Macworld Expo 2011 this year.
Mac Products
- Awind McTiVia - Transmits your Mac's video and audio to your HDTV over Wi-Fi. The $199 receiver connects to your TV via HDMI. Based on MirrorOp technology, this video shows it in action.
- Dane Elec myDitto Key - A USB key that lets you easily access your home myDitto file server securely while on the go.
- Global Delight's Boom - A $4.99 software volume booster for your Mac.
- OWC Mercury Aura Pro Express SSD - SSD Upgrade for the new MacBook Air. Previous coverage.
iOS Products
- BusyMac BusyToDo - iOS ToDo list manager that syncs with BusyCal or iCal over MobileMe. On sale for $0.99 during Macworld.
- Scosche myTrek Pulse Monitor and iOS App - Armband that monitors your pulse and tracks your progress on an iOS app over Bluetooth.
- Pocket Informant 2.0 - Calendar and task manager for iOS. On sale for $4.99 during Macworld.
- Zagg ZaggMate with keyboard - iPad case with built-in Bluetooth keyboard and stand.
- Rain Design iRest for iPad - An iPad stand designed to also be used on your lap with soft foam cushioning.
- TenOne Designs Fling - A physical joystick that attaches to your iPad's screen.