iPad Drives Apple to Third Place Worldwide, First in North America for Mobile PC Sales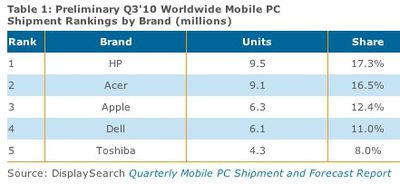 Research firm DisplaySearch today
announced
the results of its latest quarterly estimates for shipments of "mobile PCs", which include notebooks, netbooks, and tablets. The estimates for the third quarter of 2010 highlight the "iPad Effect" that has seen Apple leap to third place worldwide and first place in North America.
Capturing a 12.4% share of global mobile PC shipments in Q3'10, Apple is benefiting from the iPad Effect, which continues to shake up the mobile PC market. According to preliminary results from the DisplaySearch Quarterly Mobile PC Shipment and Forecast Report, Apple took the #3 position worldwide, and ranks #1 in North America as a result of the continued success of the iPad. The iPad accounts for an 8% share of global shipments of all mobile PCs. 95% of iPad shipments were to developed regions, primarily North America.
While Apple grabbed 12.4% of the worldwide mobile PC market with the iPad included, it would have placed eighth with 4.8% of the market had the iPad not been considered a mobile PC.
The report notes that iPad acceptance has been weak in Japan amid customer concerns regarding a lack of content tailored to the local language and interests. Adoption is also slow in developing countries, due in part to the iPad's partial reliance on a PC for content syncing.
The report echoes similar data released in August by Deutsche Bank analyst Chris Whitmore which likewise saw Apple jumping to third place among global notebook PC manufacturers for the second quarter of 2010 when the iPad was included in Apple's sales totals.