Apple Seeds Mac OS X 10.6.7 Build 10J846 to Developers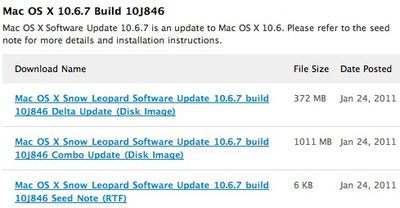 As
noted by 9 to 5 Mac
, Apple has seeded a new version of Mac OS X 10.6.7, known as Build 10J846, to developers. The updated build comes just days after the
initial seed
of the next maintenance version of Mac OS X Snow Leopard.
While the update has grown in size by nearly 35 MB since last week, we've yet to hear about any new areas of focus beyond those included in the initial build: AirPort, Bonjour, SMB, and Graphics Drivers.
Update: We've heard that Apple has added Mac App Store as an area of focus for developers putting the new build through its paces.