Apple Seeds Mac OS X 10.6.7 Build 10J842 to Developers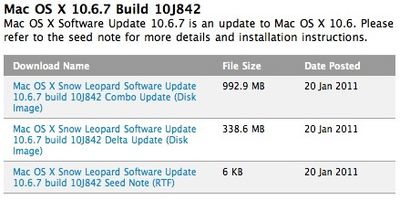 Apple today seeded the first the version of Mac OS X 10.6.7, termed Build 10J842, to developers. Coming just two weeks after the
public release
of Mac OS X 10.6.6 to support the Mac App Store, Mac OS X 10.6.7 will be yet another free maintenance release for Snow Leopard users.
We've yet to hear word of changes included in 10.6.7, but we will update this post as more information comes in.
Update: We've now heard that Apple lists no known issues in the documentation, and asks developers to focus their testing on AirPort, Bonjour, SMB, and Graphics Drivers.