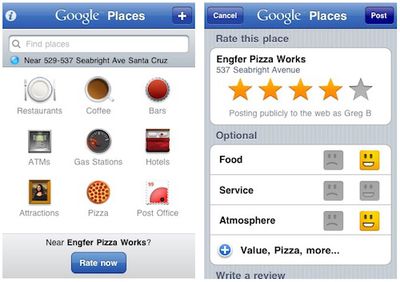 Google today
announced
the launch of a new
Google Places
application for iOS devices, offering users the ability to search for nearby places and incorporating the users' own ratings in the results algorithm.
In case you aren't familiar with Google Places, it lets you quickly search for places nearby and personalizes the results based on places you've rated. We get you started with a few popular search categories, but you can also tailor the list by adding your own favorite searches. This makes it fast and easy to find the best places for you with little fuss.
The new Google Places app also integrates the company's "Hotpot" social ratings and reviews functionality, allowing users to easily rate restaurants and other places right from the iPhone app while they are at the locations. These ratings and recommendations over time are used to inform Google's own recommendations for users.
Just fire up the app and hit "Rate now." It will use your location to guess your current place and let you post a Hotpot review right from your phone. But it's not just about getting to say what you think - the more you rate places, the more you're sharing about your tastes and the more we can give you personally tailored recommendations.
Google Places is currently English-only, but new localizations and features are coming "soon".