Mac OS X Hacked Onto Intel's Sandy Bridge Platform
Earlier this week, Intel officially unveiled its next-generation "Sandy Bridge" processor architecture, marking a significant performance improvement, especially for notebook computers. Apple is expected to utilize Sandy Bridge in upcoming revisions of a number of its Mac computers.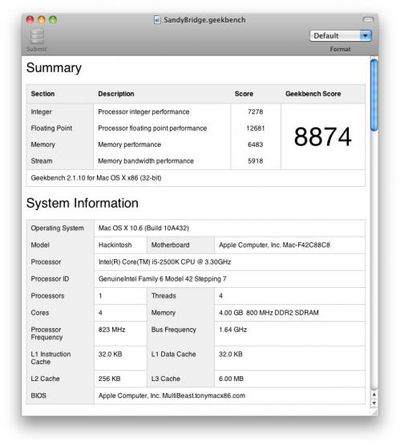 Unwilling to wait for Apple to make the move to Sandy Bridge, Hackintosh fans have already managed to
successfully install
Mac OS X Snow Leopard on systems with Sandy Bridge hardware. By using a patched Darwin kernel, users are able to bring Mac OS X to Sandy Bridge, although the technique is obviously officially unsupported and may result in system instability.
The good news is, we've already successfully installed Mac OS X Snow Leopard!
The bad news is, until Apple uses these CPUs, it's a bit of a science experiment, as you'll need to use a "patched" non-standard Darwin kernel in order to boot the system.
A report from early last month indicated that Apple is preparing to initially make the leap to Sandy Bridge on some of its smaller notebook computers, opting to use the all-in-one platform with much-improved graphics performance compared to the company earlier offerings. Unsatisfied with Intel's earlier offerings, Apple has continued to use older Core 2 Duo chips paired with custom NVIDIA integrated graphics in its smaller form factors where discrete graphics have not been an option due to space constraints.