A pair of Apple's competitors in the smartphone market haven't forgotten that not all Mac users use the iPhone as their mobile phone, as both Research in Motion and Microsoft this week pushed out updates to their Mac OS X software that allows users of the companies' smartphones to sync to their Macs.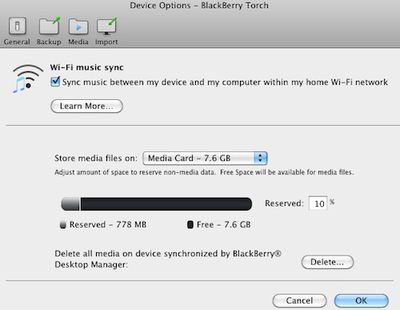 Research in Motion on Wednesday
announced
the release of BlackBerry Desktop Software 2.0 for Mac OS X, bringing support for several new features, the most substantial of which is Wi-Fi syncing. The feature allows users to wirelessly sync music between their BlackBerry and their Mac when connected to the same Wi-Fi network, a feature many iPhone users have been hoping to see added to iTunes.
The update also adds a "Device Switch Wizard" that helps BlackBerry users move data, applications, and settings from one handset to another, easing the transition for users purchasing a new BlackBerry device. Finally, BlackBerry Desktop Software now supports easier syncing of photos and videos from BlackBerry devices to iPhoto.
Research in Motion announced that it would be releasing Mac OS X syncing software for BlackBerry devices in July 2009, and launched it to users in October of that year.

As
noted by Pocket-lint
, Microsoft yesterday followed suit with its own update to its
Windows Phone 7 Connector
beta, fixing a number of issues and introducing new support for syncing purchased music from devices back to users's Macs, enhancements to new device setup, and increased options for manual management of content.
Windows Phone 7 Connector debuted in late October to support Microsoft's new smartphone operating system.