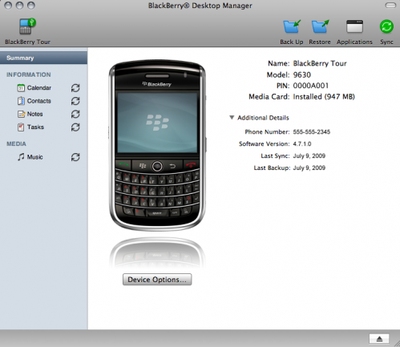 In a
blog post
today, Research in Motion announced its plans for BlackBerry Desktop Manager for Mac, which will provide full-featured media and data syncing.
Here are some key features the initial release will include:
- Sync your iTunes playlists, calendars, contacts, notes and tasks
- Add/Remove applications
- Update your device when new software becomes available
- Backup and restore your device data with such features like automatically scheduled backups and optional encryption (security is #1 as always)
- Manage multiple devices
BlackBerry Desktop Manager will be available in September, and will require OS X 10.5.5 or later. Users are encouraged to sign up for updates at BlackBerry's Mac page to be notified when the application becomes available.