Windows Phone 7 Connector for Mac Beta Now Available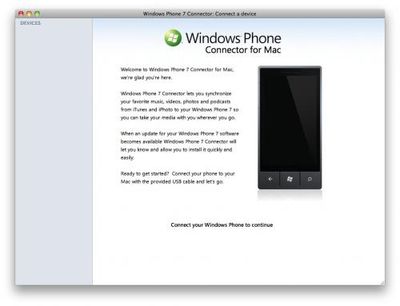 As reported earlier this month, Microsoft has released software allowing Mac users to synchronize media with a Windows Phone 7 device. Microsoft had held a media event earlier this month to officially unveil its Windows Phone 7 operating system along with several handsets to be available over the next few months through a number of carriers.
Now available from the Windows Download Center, the application requires Mac OS 10.5 Leopard or higher and provides the following functionality:
Windows Phone 7 Connector lets your syncronize your favorite music, videos, photos and podcasts from iTunes and iPhoto to your Windows Phone 7, so you can take your media with you wherever you go.
Though no mention is made in the description for the beta Connector application, it's unlikely that any DRM-protected content purchased from the iTunes Store can be synchronized to a Windows Phone 7 device.