iPad Still Dominating Corporate Tablet Usage as Competitors Arrive
ChangeWave Research reports on the results of a new survey conducted last month regarding corporate usage of tablet devices such as Apple's iPad. With new tablet offerings such as the HP Slate 500 and the Dell Streak now becoming available, the survey finds that businesses are still overwhelming supporting the iPad as tablet adoption increases at a rapid rate.
In terms of current usage, 7% of corporate respondents now say their company provides employees with Tablet devices - up 1-pt since our previous survey in August.
The Apple iPad (82%) remains by far the most popular Tablet for business purposes. H-P (e.g., Slate; 11%) and Dell (e.g., Streak; 7%) are also showing some traction among corporate users - but both remain far behind Apple's overwhelming share of the market.
Usage is expected to continue to surge, with the number of surveyed companies planning to be utilizing tablets in the first quarter of 2011 registering at 14%, double the current number. Those companies planning to begin using tablets early next year are also overwhelming planning to adopt the iPad, with 78% opting for Apple's tablet device.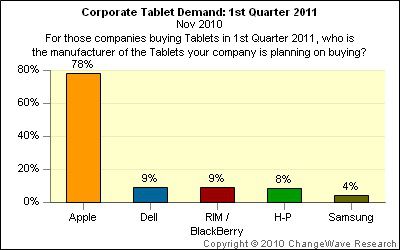 Among those companies that have already begun using tablets, the iPad registers highest in satisfaction, with 69% of corporate users saying they are "very satisfied" with the device, compared to only 23% of HP tablet users and 12% of Dell tablet users.

Finally, the survey finds that corporate users are more broadly using the iPad for such functions as Internet access, corporate email, and on-the-road work when compared to the firm's August survey.