Firmware Updates Bring AirPrint Functionality to 6 New HP Printers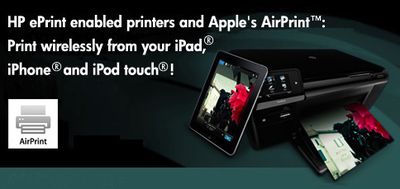 Late last month, Apple CEO Steve Jobs reportedly
responded to a customer email
regarding the dearth of printer support for the company's new AirPrint wireless printing functionality for iOS devices, noting that there was "lots more coming soon" for the feature.
As HP notes on its AirPrint site, the first expansion of AirPrint functionality since the feature's launch occurred yesterday with the release of firmware updates for six existing HP printers that will allow those printers to support AirPrint.
- Officejet 6500A e-AiO5
- Officejet 6500A Plus e-AiO5
- Officejet 7500A Wide Format e-AiO5
- Officejet Pro 8500A e-AiO5
- Officejet Pro 8500A Plus e-AiO5
- Officejet Pro 8500A Premium e-AiO5
In developer beta versions of iOS 4.2, AirPrint had initially offered support for printing to printers shared via Macs or PCs, but Apple pulled that aspect of the functionality before the public launch, leaving only a small number of HP printers officially supporting the feature via direct printing for the time being.