Apple Delays or Cancels Support for AirPrint Via Shared Printers on Macs and PCs?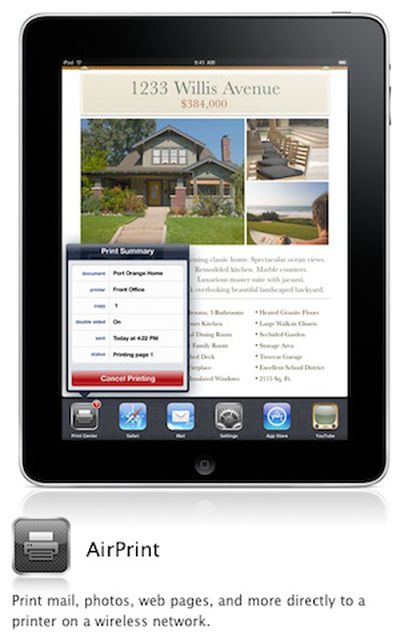 MacStories reports
that Apple appears to have canceled support for printing from iOS devices to shared printers attached to Macs and Windows PCs. The last-minute change would appear to put a crimp in the utility of the company's AirPrint service scheduled to be launched on iOS 4.2 in the very near future.
We have been told from a few Mac developers that a few days ago Apple removed all the references to printing via OS X 10.6.5 and PCs both from Readme files and other online documentation posted in the iOS developer center. It seems like all that's now mentioned in the release notes are the aforementioned HP networked printers, as if the shared printing option never existed.
According to one developer who contacted Apple technical support regarding the removal, Apple has indeed canceled AirPrint support through shared printers, and it is unclear if the company even has plans to offer it in the future.
So, here is the reply from Apple Tech Support when contacted:
"Support for AirPrint on Windows and Mac has been cancelled. We will be in contact with you if another opportunity arises in the future."
While some developers have claimed that the feature does indeed work under the iOS 4.2 golden master when used with the Mac OS X 10.6.5 beta version made available to iOS developers for AirPrint testing, claims have arisen that issues with "instabilities and incompatibilities" have forced Apple to remove the functionality.
Mac OS X 10.6.5 and iTunes 10.1, which had been set to bring the AirPrint support to Macs and Windows PCs, have been rumored to see a release tomorrow, with iOS 4.2 claimed to be set to follow on Friday.