Steve Jobs on AirPrint: 'Lots More Coming Soon'
Many users of Apple's iOS devices were disappointed when Apple significantly scaled back the initial implementation of its AirPrint wireless, driverless printing service in iOS 4.2, limiting compatibility to direct printing to a handful of compatible printer models. With the reasons behind the scaling back remaining unclear and ranging from technical problems to patent issues, users have wondered whether Apple still has plans to allow for AirPrint functionality for other printer configurations such as printers shared through Macs and PCs as the feature had initially supported.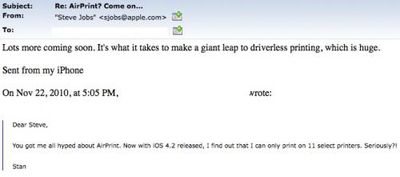 One
MacRumors
forum member
emailed Steve Jobs
about the future of AirPrint and reportedly received reassurance from the Apple CEO that the company will be expanding the feature "soon". Jobs also noted the difficulty in deploying driverless printing, hinting at a need for patience as the company continues to push forward.
Q: You got me all hyped up about AirPrint. Now with iOS 4.2 released, I find out that I can only print on 11 select printers. Seriously?!
A: Lots more coming soon. It's what it takes to make a giant leap to driverless printing, which is huge.
Apple has detailed the AirPrint feature and listed the 11 HP printers currently compatible with the service on an iPad feature page.