HyperMac to Halt Sales of MagSafe Charging Cables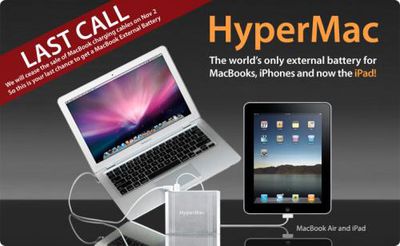 Engadget notes
that Sanho, maker of the popular
HyperMac
line of external batteries for Apple notebooks, will halt sales of the MagSafe charging cables required for connecting its batteries to Apple's machines as of November 2nd. The move comes as the company attempts to work out a licensing agreement with Apple to offer the MagSafe interface.
As part of our ongoing comprehensive licensing negotiations with Apple regarding a wide array of technologies and issues, we have decided to cease the sale of the MacBook charging cables and car charger on November 2, 2010.
While we will continue to sell the same batteries together with the rest of our product line after November 2nd, they will not be able to charge MacBooks without the cables.
Apple filed suit against Sanho early last month over the accessory company's use of the MagSafe interface, alleging patent infringement. Sanho had hoped to escape the eye of Apple by utilizing official MagSafe connectors recycled from Apple adapters, but their incorporation into new products was deemed by Apple to be an inappropriate usage.
It is unclear if Apple and Sanho will be able to work out an agreement to allow the MagSafe-compatible HyperMac charging cables to return in the future, but negotiations are clearly underway to at least settle the lawsuit brought by Apple.
Apple's suit had also targeted Sanho for including Apple's USB-to-Dock cable with its external battery battery products for mobile iOS devices, but Sanho has apparently already discontinued that practice, with customers having to rely on their current cables or acquiring new ones from elsewhere.