Former Apple CEO John Sculley Reflects on Steve Jobs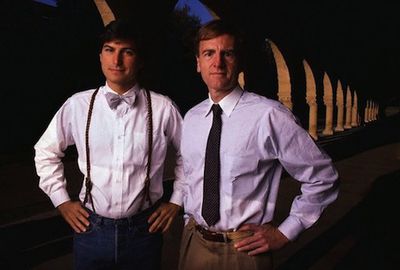 Steve Jobs (left) and John Sculley (right) in 1984
Cult of Mac
recently conducted an
interview
with former Apple CEO John Sculley, who headed up the computer maker from 1983 until 1993 and on whose watch Steve Jobs was ousted from the company he founded. The interview offers an interesting glimpse into Jobs' perspective on Apple and how his principles of aesthetic design, minimalism, and perfectionism have influenced Apple over its entire existence.
Sculley emphasizes Jobs' view of the customer experience, incorporating that perspective into every aspect of product design. But even from their earliest days, Jobs and Apple shied away from focus groups, with Jobs arguing that it was impossible to gain feedback on revolutionary new devices when the potential users couldn't understand the leaps Apple was trying to make.
"Steve said: 'How can I possibly ask somebody what a graphics-based computer ought to be when they have no idea what a graphic based computer is? No one has ever seen one before.' He believed that showing someone a calculator, for example, would not give them any indication as to where the computer was going to go because it was just too big a leap."
Jobs has also insisted on a high level of personal involvement in product development, with Sculley likening the experience to an artist's workshop, where engineers would work on bits of new hardware or software and Jobs as the master craftsman would wander from employee to employee to critique the work that was being done.
"Steve would shift between being highly charismatic and motivating and getting them excited to feel like they are part of something insanely great. And on the other hand he would be almost merciless in terms of rejecting their work until he felt it had reached the level of perfection that was good enough to go into - in this case, the Macintosh.
Jobs' insistence on playing an active role in the day-to-day work of his engineers led to his belief that the Mac team should never exceed 100 people. And while the supporting cast of employees around the engineering team could obviously grow much larger, the core team was meant to be kept tightly focused under Jobs.
Sculley also reflects on his role as Apple CEO, having been recruited from a 25-year career at Pepsi to lead a company in an industry he knew nothing about. Sculley goes as far as to call his hiring a "big mistake", with Apple unwilling to allow the still-young Steve Jobs to have full control over the rapidly-growing company and attempting a forced marriage of sorts in which the outsider Sculley and the design-focused Jobs were obliged to share the governing duties.
A full transcript of the interview is also available, bringing a fresh perspective on Apple and Steve Jobs from a major player during a time of remarkable growth but significant turmoil for the company striving to revolutionize the computing industry.