Component Supplier Predicts Shipments of 45 Million iPads in 2011, Speculation on Smaller Model
Forbes reports on a research note from Ticonderoga Securities analyst Brian White, who reveals that he has spoken with a component supplier for Apple's iPad who claims that Apple appears to be poised to ship 45 million iPads next year after moving in excess of 16 million units this year. The predictions exceed even the rosiest expectations published to date and come on top of a report earlier this week predicting the iPad to represent the fourth-largest consumer electronics category in the United States next year behind TVs, smartphones, and notebook computers.
The contact, says White, shipped more than 6 million parts to Apple during the third quarter of the year and expects to ship 7 million more in the fourth quarter.
Since Apple uses one unit of this particular component in each iPad, that adds up to shipments of 13 million iPads in the second half of 2010. For 2011, the contact believes Apple will sell as many as 45 million iPads, adds White.
The supplier's report of 13 million iPads for the second half of 2010 comes on top of Apple's announced sales of over 3 million iPads for the launch quarter earlier this year.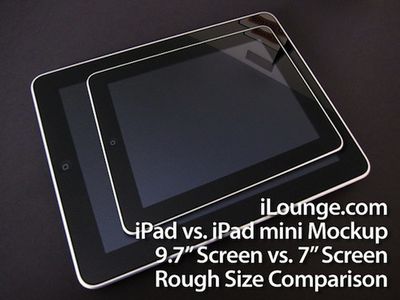 Previous mockup of 7-inch iPad based on current design
White follows on the recent theme of predicting a smaller iPad, but also offers additional details about the specs he believes will make an appearance in the smaller model.
As others have already speculated, White's contact says the second-generation iPad will be smaller, with a screen that measures about seven inches, compared to the first iPad's 9.7-inch screen. The new iPad will also include the high-resolution "Retina" display that the latest version of the iPhone (4) boasts, a micro or mini USB port, a camera and greater capacity of up to 128 gigabytes. The amount of storage in the current generation of iPads tops out at 64 gigabytes.
We believe these listed specs to be rather optimistic, however, given Apple's desire to keep iPad prices relatively low. In particular, a 7-inch high-resolution Retina display would appear to be a challenge for Apple, both in implementation and in pricing. High-resolution displays in dimensions approaching that size are just beginning to appear, but pricing for the new products is unknown and are likely to be rather high for a company that will almost certainly have to bring a 7-inch iPad in at a starting price under the $499 entry-level price for the current iPad.