Apple Set to Announce Blockbuster Quarterly iPhone Sales?
Apple is scheduled to announce earnings results for its just-ended fourth fiscal quarter of 2010 on October 18th, and one of the big questions is just how many iPhones the company was able to sell during the three-month period. Apple's highest quarterly iPhone sales to-date came in the quarter ending in March of this year, with 8.8 million iPhones sold. The company's iPhone sales dipped slightly to 8.4 million in the June quarter as a successful iPhone 4 launch in the waning days of the quarter wasn't quite able to offset lagging sales over the majority of the quarter as customers held back in anticipation of the new version.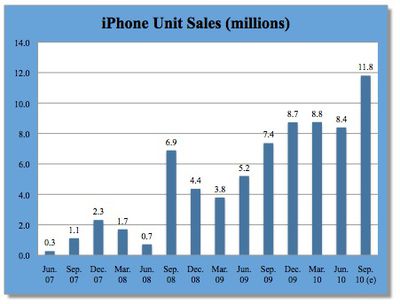 Fortune takes a look
at what Wall Street analysts are thinking as far as iPhone sales for the September quarter, finding a broad range of estimates as supply shortages have led to some uncertainty over just how many iPhones Apple has been able to get out to its customers. Analysts are predicting, however, that Apple will see a record-setting quarter for iPhone sales, with estimates ranging from a low of 10 million to a high of over 13 million. The estimates represent anywhere from 35% to 80% year-over-year growth compared to the 7.4 million iPhones sold in the fourth fiscal quarter of 2009.
Of all its products, none is more important to Apple's bottom line than its smartphone, which generated $5.4 billion in fiscal Q3 -- 40% of the company's total revenue. The iPhone 4, launched three days before the end of that quarter, has been in short supply ever since, making it trickier than usual for analysts trying to estimate sales in advance of Apple's quarterly earnings report.
Averaging analysts' estimates to arrive at a consensus number for the quarter, Apple may be looking at approximately 11.8 million iPhones sold, an increase of 60% year-over-year.
Fortune conducted a similar analysis of iPad sales estimates earlier this week, placing consensus estimates at about 5 million for the quarter, on top of the 3.27 million iPads sold in the launch quarter earlier this year.