U.S. Digital Music Sales Plateau in First Half of 2010 [Updated: Single Tracks Only]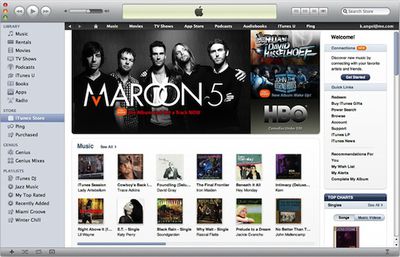 Reuters reports
on data from research firm Nielsen showing that U.S. digital music sales plateaued in the first half of 2010, marking a dramatic decrease from the 28% growth enjoyed just two years ago.
According to research group Nielsen, digital sales were flat in the U.S. market after a 13 percent increase from 2008 to 2009 and 28 percent growth from 2007 to 2008.
Nielsen points to a variety of factors, including economic uncertainty, a lack of appeal for new releases, and confusion over digital sales options as possible reasons for the leveling off.
Apple has long dominated the digital download market in the U.S. and many other countries, consistently registering on the order of 70% of digital industry sales and now exceeding a quarter of all music sales. Consequently, a plateauing of digital music sales growth set against a backdrop of stagnating overall music sales suggests that Apple may have a difficult time growing its iTunes music business in the U.S. if the trend continues, given the company's already-high market share. Data from Apple's announced milestones for iTunes music sales already reveals a leveling off at around 250 million downloads per month.
Some hope may remain in international markets, however, as Nielsen notes growth in digital music sales in a number of other countries.
According to the Nielsen research, digital music sales were up 7 percent in Britain, up 13 percent in Germany and up 19 percent in France.
Apple has also become less reliant on iTunes Store music sales for driving hardware purchases as the company's media devices have become more capable, allowing the company to branch out into applications, movies, and TV.
Update: In an updated version of the article, Reuters clarifies that sales of single tracks were flat year-over-year in the first half of 2010. Including sales of digital albums results in a gain of 5% year-over-year for the overall digital music market in the U.S.