App Store's Meteoric Growth Compared to iTunes Song Downloads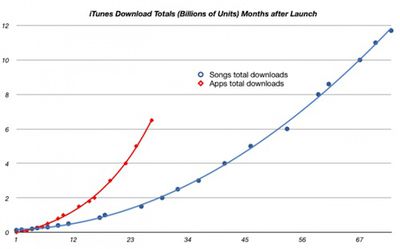 Asymco offers
an interesting graph showing the relative growth of iTunes song and App Store downloads over their respective histories, demonstrating the App Store's meteoric growth that is setting it up to pass the music portion of Apple's media store in total downloads in the relatively near future.
As can be seen, the App store has reached the same total downloads in 2.2 years as the iTMS reached after five years. The two curves are likely to be the same height (around 13 billion each) before the year is over.
We're not convinced that the catch will happen by the end of the year, but it certainly appears that the App Store is on pace to come out on top sometime next year. App Store downloads have totaled about 500 million per month over the past six months, while song downloads have stagnated at about 250 million per month for the past year or so.
Given that the music side currently holds about a 5 billion download lead over the App Store, that would imply that it will be about 20 months before the App Store takes the lead. Of course, given the acceleration in App Store downloads against stagnant song downloads, the catch will likely happen significantly sooner that that. We do not, however, see the App Store averaging the over 1.5 billion downloads per month that would appear to be necessary to catch the song download total by the end of this year.
It can also be argued that the comparison is one of apples to oranges, as the majority of applications available through the App Store are available free of charge, while only a small handful of song tracks are free at any given time. Regardless, Apple has long viewed its iTunes music downloads and App Store primarily as break-even businesses, designed much more to boost hardware sales than to generate profits on their own.