Google Search to Remain Default on Apple Devices?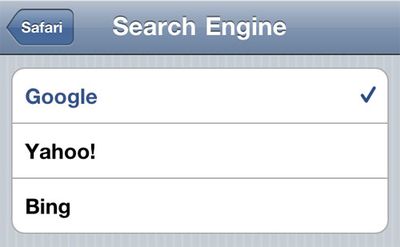 Google's CEO Eric Schmidt
was recently interviewed
by Charlie Rose on a variety of topics. Schmidt revealed that the search deal between Google and Apple had been "recently extended", suggesting that Google will remain the default search option on Apple's Mac OS X operating system and iOS devices for the time being.
Apple (AAPL) is a company we both partner and compete with. We do a search deal with them, recently extended, and we're doing all sorts of things in maps and things like that.
Earlier this year, rumors had suggested that Apple was in talks with Microsoft to replace Google as the default search engine on the iPhone, iPad and iPod Touch. Apple did recently add Bing search as an option for iOS search, but users must specifically activate it from their settings.
It seems Google was able to stave off Microsoft's advances for the meanwhile, but Apple and Google's partnerships have reportedly been under increasing strain as they become more competitive in the same markets.