27-Inch LED Cinema Displays Shipping For Delivery Tomorrow, Apple TV Orders Being Charged
As we noted earlier today, software updates released by Apple today indicated that the release of the company's new 27-inch LED Cinema Display appeared imminent. We can now push things one step further, as customers have begun receiving shipping notices for their orders, some with delivery set for as early as tomorrow.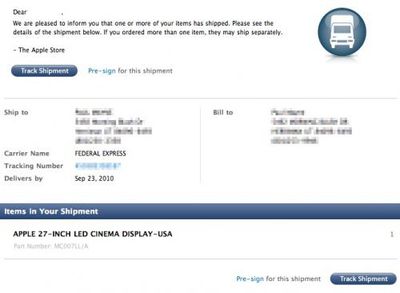 Apple's shipping department is also gearing up to start pushing out the new Apple TVs as well, as we've heard from a number of customers who have seen their credit cards being charged for their orders, a sign that shipment should occur in the very near future.