New Apple TV to Get Apps?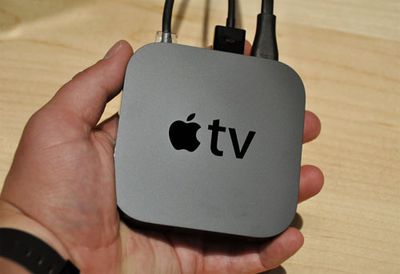 Yesterday's
confirmation
that the new Apple TV shares the same iOS codebase as the Apple's iPhone, iPod Touch, and iPad has resparked discussion about the possibility of Apple TV Apps in the near future. Several sites are
suggesting
that the Apple TV will be the target of Jailbreakers who will try to open the device to 3rd party apps, though we suspect Apple already has their own plans in the works.
If you remember, Engadget predicted that the new Apple TV would be based on the A4 processor, focus on streaming technology and be priced at only $99. They followed up with further claims that the AppleTV would indeed get Apps:
Furthermore, the device will be getting apps and presumably an App Store entry, though it's unclear if there will be cross-pollination between iPad and iPhone / iPod touch offerings and new Apple TV applications.
Overall, their predictions and descriptions of the device were quite accurate. Two predictions didn't come true: the iTV rename and the arrival of an Apple TV App Store. However, even the possibility of an iTV rename generated backlash from UK television network ITV, so it seems possible the rebranding could have been derailed at the last minute.
Now, an Apple TV App Store remains a distinct possibility. Apple originally launched the iPhone without Apps and introduced the App Store a full year later. If the rest of Engadget's report is to be believed, the new Apple TV should have 16GB of flash storage that will be able to be used for future App storage. The new Apple TVs have not started shipping but we'll be able to confirm its internal storage once it gets in customer's hands.