Apple Reportedly Prepping Revamped Apple TV: iPhone OS, Cloud-Based Storage, $99 Price Point?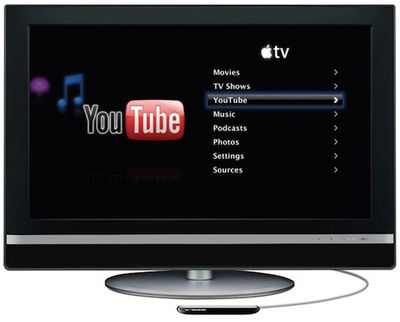 Engadget's representation of "iPhone-like" Apple TV hardware
Engadget reports
that it has received detailed information on a forthcoming revamp of the Apple TV, a major shift for the product that will reportedly see it resembling "an iPhone without a screen". Based on the next-generation iPhone hardware and software and relying on cloud-based storage rather than an internal hard drive, the new Apple TV is said to be set to carry a price point of only $99.
The new architecture of the device will be based directly on the iPhone 4, meaning it will get the same internals, down to that A4 CPU and a limited amount of flash storage -- 16GB to be exact -- though it will be capable of full 1080p HD (!). The device is said to be quite small with a scarce amount of ports (only the power socket and video out), and has been described to some as "an iPhone without a screen." Are you ready for the real shocker? According to our sources, the price-point for the device will be $99.
According to the report, while streaming content will be the focus of the device, users will also have the option of pairing the new Apple TV with a Time Capsule for external local storage. In addition, while the forthcoming Apple TV will reportedly utilize an iPhone OS-based operating system, there is no word on whether it will support App Store applications as with Android applications on the forthcoming Google TV platform.
The report concludes by noting that we should not expect to see an introduction of the new Apple TV at the company's Worldwide Developers Conference (WWDC) early next month, as that event is set to primarily focus on the next-generation iPhone. And so while no specific timeframe for a launch of the revamped Apple TV is known, the project "is most definitely full steam ahead."
Apple has long considered the Apple TV a "hobby", noting numerous times that it feels "there is something there" and that it will keep investing in the platform. Rumors and speculation, as well as an Apple job posting, had also suggested that the company is looking to extend the iPhone OS to new devices, possibly including the Apple TV.
Update: Daring Fireball's John Gruber notes that the revamped Apple TV carries an internal codename designation of "K66", which has been mentioned in the iPhone OS 4 betas for several months now.