'iProd2,1' Confirmed to Be New Apple TV, Not Next-Generation iPad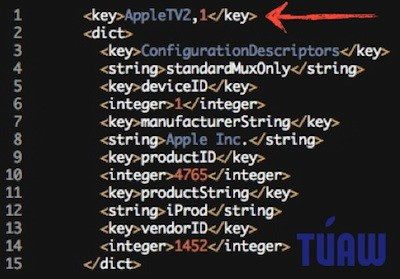 TUAW reports
that configuration files within the new iOS 4.2 beta reveal that Apple's "iProd2,1" device that had been spotted in earlier iOS versions and presumed to be the next-generation iPad is actually the company's forthcoming Apple TV revision.
We've received a tip from an iPhone developer who was looking through the USB device configuration list in the new iOS 4.2 beta. Our source found the fascinating configuration descriptor shown above. Noted as iProd in the device configuration, this slip shows that this instance of iProd is the new Apple TV, not a new, unannounced iPad.
The entry for iProd2,1 first showed up in iPhone OS 3.2 back in April. At the time, it was presumed to be a next-generation iPad, as the original iPad had initially carried an "iProd1,1" designation early in its testing process.
Interestingly, iProd2,1 once again made an appearance just a month ago in configuration files that were apparently designed to allow the device to be auto-activated without having to be connected to iTunes, reportedly to ease the process of carrier testing for new iOS hardware. Coming alongside identifiers for unreleased iPhone models, the information again suggested that iProd2,1 was a new iPad model with cellular capabilities. Just days later, iProd2,1 reared its head again, this time in a configuration file explicitly identifying it with a Product ID number of 4765, again with the assumption that it was an iPad.
All of those thoughts have been turned on their heads with today's revelation, however, as TUAW's source shares information clearly indicating that the device bearing Product ID number 4765 is now being referred to as "AppleTV2,1" rather than iProd2,1. The new perspective implies that the interpretation of the auto-activation configuration code as being for carrier testing purposes was incorrect or at least incomplete, as the Apple TV offers no cellular connectivity.