AirPlay Opens Door to Almost Any Web Video on Apple TV
The news that iOS 4.2 allows any standard iOS video playback controller to potentially stream content to their Apple TV is continuing to generate some excitement. Seth Weintraub suggests that this is a bit of a Trojan horse strategy that will allow iPad and iPhone customers to stream a huge amount of content from Apps and the Web to their Apple TV:
That means you can watch most Internet video on AppleTV over AirPlay. The day AppleTV is released, you'll be able to watch free SD clips of shows that appear on ComedyCentral.com like the Daily Show and Colbert Report via Airplay. You theoretially should be able to watch Hulu Plus so long as it is encoded in H.264 (and doesn't get blocked once the networks figure out what Apple has done here).
This streaming ability (so far) only seems limited to those Apps that play using the standard iOS video player. Examples beyond Safari included YouTube, iPod, BBC News and MLB apps.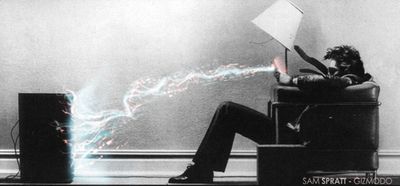 Image from
Gizmodo
Gizmodo
shared the same sentiment last week when it called AirPlay Apple's "sneak attack on television."