Apple to Launch Wi-Fi iPad in China on September 17th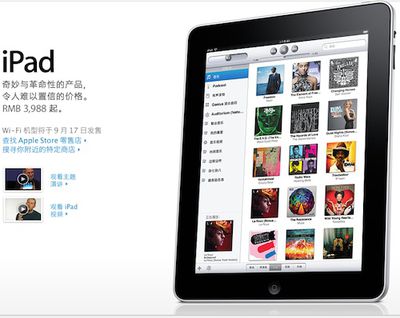 Apple today
announced
that it will begin selling Wi-Fi iPad models in China as of this Friday, September 17th.
Apple today announced that the Wi-Fi models of its magical iPad will be available to customers in China from Apple Retail Stores, and select Apple Authorized Resellers, on Friday, September 17 starting at 10:00 a.m.
Pricing comes in at CNY3988 ($590) for the 16 GB model, CNY4788 ($708) for the 32 GB model and CNY5588 ($827) for the 64 GB model.
There is no word on 3G-capable iPad models, with the delay presumably due to regulatory issues. Current iPhone carrier China Unicom had previously announced that it would offer the iPad, with the assumption being that it was referring to 3G models planned to run on its network.
Supply constraints for the iPad have begun to ease in recent weeks as Apple's efforts to boost production have allowed the company to drop shipping estimates to "within 24 hours" in its current markets for the device. Similar signs of the easing supply crunch can be read in the apparent expansion of retail store sales to include Target early next month. Wal-Mart has also announced that it plans to carry the iPad "later this year", and so it too may be set to come onboard alongside Target.
Update: According to Apple's Latin American site for the iPad, the device will also be launching this Friday in Argentina, Chile, Colombia, Ecuador, and Peru.