Case Manufacturer Shows Off Claimed Next-Generation iPod Touch Design Mockup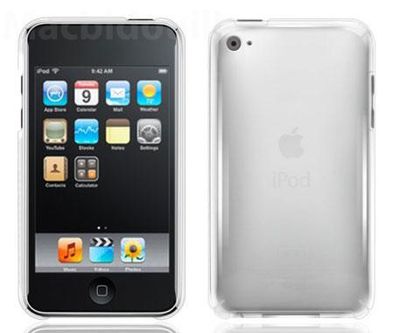 HardMac reports
that it has received from a case manufacturer a design mockup for the next-generation iPod touch, showing an off-center rear camera and flash similar to that found on the iPhone 4.
Even if it is hard to have a perfect view through the case, it looks like the back is rounded, unlike the one of the new iPhone, and of course, there is a camera and a flash.
This source is very reliable since it is already thanks to it that we were able to predict the camera on the iPod Mini last year.
There has been considerable speculation over whether Apple will even include a rear camera in the next iPod touch, especially considering the space constraints imposed by the current model's slim and tapered design. Many have regarded a lower-resolution (and thus thinner) front-facing camera as having a higher probability than a rear-facing one as Apple seeks to broaden access to its FaceTime video calling feature.
If Apple were to squeeze a rear-facing camera into the next-generation iPod touch, moving it to a corner as found on the iPhone would seem to be a reasonable shift away from the centered rear camera seen on current-generation prototypes that was ultimately scrapped. Such a move could provide additional space within the device's body depending on the degree of tapering, particularly if Apple is looking to center a front-facing camera on the other side of the device.
Despite the fact that Apple CEO Steve Jobs reported at the company's iPhone 4 press conference that it does not share product designs with case makers ahead of time due to their history of such leaks, Apple's manufacturing partners have been known in some cases to leak information to case manufacturers to enable them to get a head start on production before a new product launches. Other case manufacturers have admitted that they simply base their designs on prevailing rumors as they seek to have as much of their design work done ahead of the actual device introduction as possible.