Apple Survey References Ability to 'Instantly' Watch iTunes Store Video Content on iPad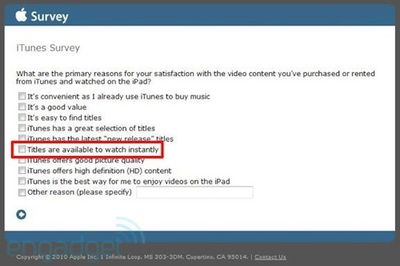 Engadget
yesterday
reported
on an Apple customer service survey going around in recent days that specifically addresses the ability to "instantly" watch iTunes Store video on the iPad, a feature not currently available.
. . .it lists "Titles are available to watch instantly" as a reason you might totally love watching video on the iPad. Of course, you can't watch iTunes videos "instantly" right now -- the iPad requires the entire video file to download before playback begins, and the current Apple TV requires a fair bit of buffering -- so this could be a big hint that instant streaming is coming quite soon.
With Apple's media event scheduled for tomorrow, speculation of course tends to surface about whether Apple might announce a new streaming video service for iTunes.
Customer service and market research surveys are typically poor sources for such information, as those in charge of the surveys are generally far removed from any product development processes. Consequently, it seems more likely that this is item is simply an error or unclear wording on the part of the survey staff, but given that the source is Apple itself, it bears noting.
Most of the rumors regarding a cloud-based streaming service for iTunes have centered around music, but sources have indicated that Apple has yet to even formally approach music labels about making licensing deals to allow the service to be implemented. Rumors of video streaming have, however, occasionally cropped up, including claims that the Lala Media team that was expected to work on music streaming has been diverted to tackle an unknown video feature. A focus on video streaming would also play into the rumored Apple TV/iTV revamp.