Fortune noted over the weekend that Apple's App Store has surpassed 250,000 active applications, a little over two years after the store's debut.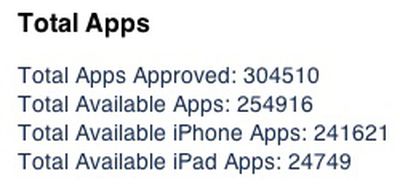 Current App Store statistics from AppShopper
According to our sister site
AppShopper
, there are currently 254,916 apps in the App Store. Over 300,000 applications in total have been approved over the App Store's history, but nearly 50,000 previously-approved apps are no longer available in the store.
Developers are continuing to press forward on Apple's iPad tablet device, with nearly 25,000 apps now available in either iPad-only or universal formats to provide user interfaces and features optimized for the larger screen size.