HBO to Deliver Streaming Video to iPad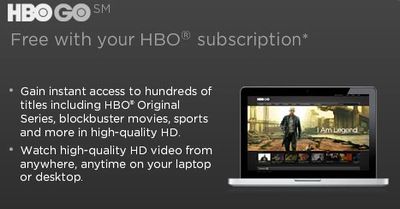 Bloomberg reports
on the HBO's reluctance to license their shows to Netflix for online streaming, but reveals that iPad owners will still be able to access HBO content in the near future.
Time Warner Inc.'s pay-television channel, home to shows including the "The Sopranos" and "True Blood," holds cable and Internet rights to films from Warner Bros., Twentieth Century Fox and Universal Pictures and is unlikely to make a deal with Netflix, HBO Co-President Eric Kessler said.
Instead, HBO plans on making its shows and movies available online through its own HBO Go service. HBO Go is presently a streaming web service that offers 800 hours of HBO TV and Movie content to current subscribers at no additional cost. HBO Go will become available in the next 6 months for the Apple iPad and other mobile devices. HBO Go was described by some as a Netflix competitor when it launched in February.