Apple Hires Near Field Communications Expert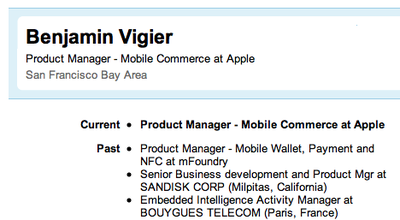 NearFieldCommunications World
reports that Apple has recently hired Benjamin Vigier as its new product manager for mobile commerce. Vigier is described as an expert in near field communications (NFC) having been in the field since 2004.
Most recently Vigier was product manager for mobile wallet, payment and NFC at US mobile payments specialist mFoundry. There he conceived and managed both the PayPal Mobile service and Starbucks' barcode-based mobile payments service and was also responsible for the development of mobile wallet applications for two top US mobile network operators and an NFC wallet application for a top three US bank.
Near Field Communications is short range wireless communication technology (~4 inches) that is used in mobile phones for a variety of applications including mobile ticketing, mobile payments, interactive advertising and more. The same site had previously reported that Apple has had prototype devices already outfitted with the required radio-frequency identification (RFID) chips.
Apple has published a number of patent applications related to NFC technology. One even detailed the use of an iPhone as an electronic wallet and payment system that could be used to pay a bill at a restaurant. A host of other patent applications from Apple has demonstrated other possibilities including "Grab & go" file transfers between an iPhone and a Mac or PC. According to LinkedIn, Vigier joined Apple in July 2010.