Apple Mobile Payment System 'Transaction' - an iPhone-based eWallet
Patently Apple details a recent Apple patent application that describes a system by which customers can use their iPhone as an electronic wallet and payment system.
Apple's patent is directed to various techniques for conducting peer-to-peer financial exchanges using a handheld, portable electronic device - which for the sake of simplicity is represented throughout several transaction-based patents - as the iPhone.
The iPhone may integrate several functionalities for performing peer-to-peer transactions, including the storing information representation a user's payment accounts and crediting accounts, acquiring and sending payment information, and obtaining payment authorization.
Apple suggests a number of possibilities on how to initiate transactions including the use of Near Field Communication (NFC) technology.
Apple even names the app "Transaction" in the patent application and details how it might be used. This flowchart shows how one might pay for a bill at a restaurant using the application: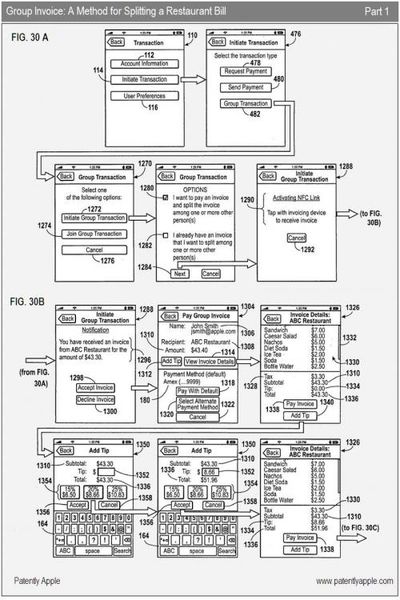 The patent applications for this system were originally filed in late 2008.