Apple's New Rechargeable AA Batteries Actually Sanyo Eneloops?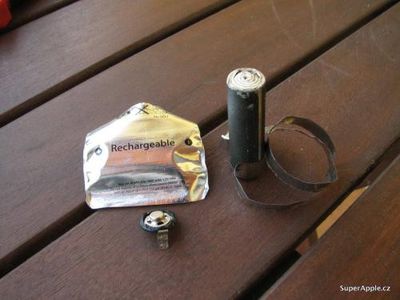 Several tipsters previously pointed us to the similarities in the published promotional specs of Apple's new
rechargeable AA batteries
and Sanyo's
Eneloop
batteries, suggesting that Apple have essentially rebranded Sanyo's offerings for sale it its own packaging.
New testing by SuperApple.cz
[
Google translation
] published today seems to confirm the suspicion, despite the lack of any definitive physical markings inside the batteries to give away the link.
In all likelihood, this indeed is the Sanyo Eneloop cells, specifically the model of HR-3UTG because they correspond to physical parameters of the articles (new articles Eneloop tests show essentially the same value) but also measured the capacity - if you view the document producer , you'll find it is these cells are indicated by the minimum capacity of 1900 mAh, then the regular 2000 mAh and Apple in this case decided to set the guaranteed capacity, although it is less beneficial according to the manufacturer, and according to our measurements.
The discovery that has rebranded another companies batteries is not necessarily a surprise, as it was unlikely that Apple took on the task of reinventing rechargeable battery technology on its own. The disclosure does reveal, however, that the Apple's batteries are not based on a brand-new battery technology, as Sanyo first developed its Eneloop batteries in 2005 and launched them for sale in 2006.

But the other component of Apple's battery package, the charger, does appear to be an Apple-designed product, with
SuperApple.cz
finding no tell-tale branding on its internal components while obviously offering Apple's traditional styling. The charger is designed to automatically reduce power usage to 30 milliwatts once it senses that batteries have been fully charged, the lowest "vampire draw" in the industry and 10 times lower than the industry average.