Research in Motion Launches 'Torch' Smartphone and BlackBerry 6 OS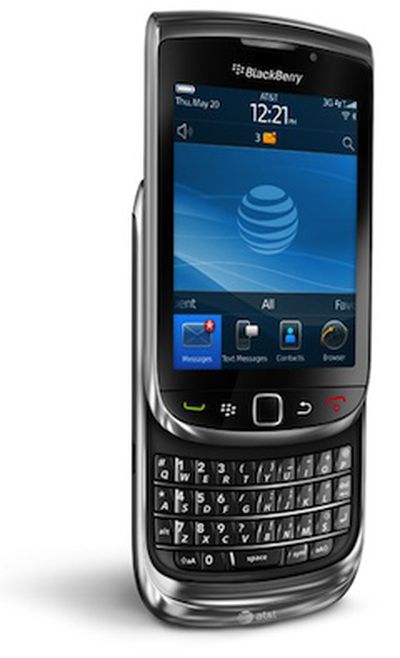 With much fanfare, Research in Motion (RIM) today
announced
the launch of its BlackBerry Torch 9800 smartphone, running the company's new
BlackBerry 6 operating system
. The launches are a key milestone in RIM's effort to reverse
sagging interest
in the pioneering smartphone platform in the face of continued strong growth in iOS and the surging Android platform.
The BlackBerry Torch 9800 offers a full 3.2" touchscreen, although it offers only 360x480 resolution, considerably lower than the iPhone 4 and other smartphones hitting the market at present. The Torch retains the traditional BlackBerry physical keyboard, however, tucking it away in a slim slider design. It also offers an optical trackpad for navigation, 5-megapixel camera, and 4 GB of onboard storage with an additional 4 GB media card and support for cards up to 32 GB included. The Torch will launch exclusively on AT&T, Apple's exclusive partner for the iPhone, on August 12th and will be priced at $199 with a two-year contract.
Perhaps more significant than the Torch hardware is RIM's new "BlackBerry 6" operating system, offering a refreshed user interface that should still feel familiar to current BlackBerry users. One of the major additions in BlackBerry 6 is a new browser based on WebKit, the same engine behind the iPhone and Android browsers. The new BlackBerry browser offers tabs, auto-wrapping text zoom, and pinch-to-zoom features. It also drives the platform's email application.
BlackBerry 6 also offers a new "Social Messages" application that aims to integrate instant messaging, Twitter, Facebook and other social tools across services. Finally, the new operating system brings enhancements to multimedia performance with enhanced music and podcast services.
The new BlackBerry 6 operating system launches on the Torch 9800 handset, but will soon be available for the existing Bold 9700, Bold 9650, and Pearl 3G (9100/9105) handsets, as well as on future BlackBerry devices.