Android Outpaces iPhone in Share of New U.S. Smartphone Customers for First Half of 2010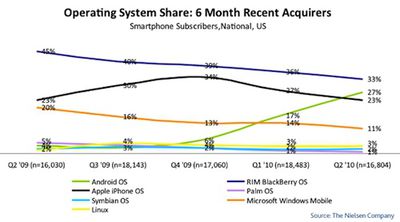 Nielsen today
released data
on smartphone usage in the U.S., revealing that Google's Android platform has outpaced the iPhone among new smartphone customers for the first half of 2010. The news comes as a marked reversal from the second half of 2009, when the iPhone topped Android 34% to 6% market share among new smartphone customers.
While the iPhone has been the headline grabber over the last few years in the smartphone market, Google's Android OS has shown the most significant expansion in market share among current subscribers. Android's rise is even more noticeable among new smartphone subscribers in the last six months where Android has nosed past Apple's iOS in the last quarter to grab a 27% share of those recent smartphone subscribers.
Taking into account total U.S. user base, however, Apple still leads Android, 28% to 13%. Both trail Research in Motion, which holds a 35% overall market share and 33% share of those customers new to smartphones in the first half of the year.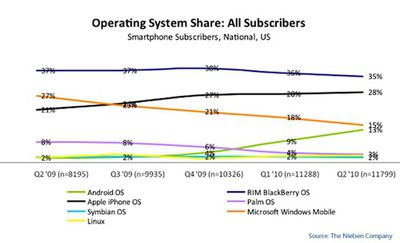 Earlier this year, NPD released
somewhat similar data
for the first quarter of 2010, claiming that Android handsets had outsold the iPhone in the U.S. Apple CEO Steve Jobs took exception to that and similar claims from others, pointing to Nielsen data at WWDC in early June showing Apple still holding a firm advantage over Android. The data shown by Jobs, however, was Nielsen's overall market share calculation for existing users, while NPD had been referring specifically referring to new sales of new smartphones. With today's release, Jobs' favored source Nielsen now agrees that Android has surpassed the iPhone in new purchases, at least among those who have not owned a smartphone before.
It is also important to note that the first half of 2010 primarily represented the back side of the iPhone's product cycle, with the iPhone 4 only making its appearance in the last few days of the period. The diversified Android platform, in contrast, saw several high-profile device launches in early 2010.
Today's survey from Nielsen also reveals that Research in Motion's lead may not hold up for long, however, as more than half of current BlackBerry owners surveyed are planning to defect from the platform with their next smartphone purchase, with 29% planning to move to the iPhone while 21% plan to pick up an Android-based handset. In contrast, 89% of iPhone owners plan to stick with the iPhone, while 71% of Android owners plan to stay on that platform.