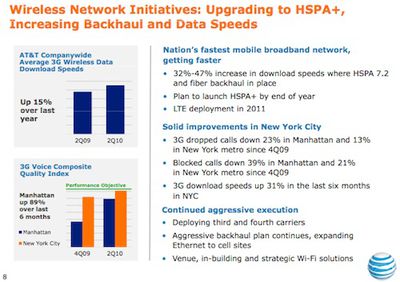 As
noted
by
Gizmodo
, AT&T during its conference call following its
second quarter earnings release
touted recent improvements to its cellular network in New York City, and Manhattan in particular. Another of the carrier's troubled markets, San Francisco, is reportedly lagging about 90 days behind New York when it comes to improvements. From AT&T's presentation:
Solid improvements in New York City
- 3G dropped calls down 23% in Manhattan and 13% in New York metro since 4Q09
- Blocked calls down 39% in Manhattan and 21% in New York metro since 4Q09
- 3G download speeds up 31% in last six months in NYC
The company also notes that its "3G Voice Composite Quality Index" is up 89% in Manhattan over the last six months.
AT&T last month announced that it had completed its 3G upgrade process in New York City, an infrastructure enhancement designed to address performance issues in a market where the carrier has seen a significant amount of criticism