Mozilla Releases First Beta of Firefox 4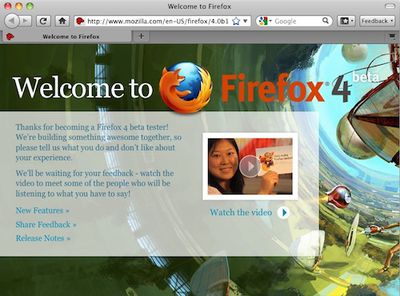 Mozilla yesterday
announced
the release of
Firefox 4 Beta 1
for Windows, Mac, and Linux. Not all of the changes scheduled for Firefox 4 are available on Mac and Linux yet, however, as major visual changes including the move of tabs to the top of the window (a feature
tested and discarded
by Apple in a Safari 4 public beta last year) and implementation of the
Firefox button
for quick access to commonly-used actions are Windows-only for the time being.
There is a lot more to this beta than a facelift on Windows, including:
- New Add-Ons Manager: gives you more space to manage your Add-Ons, Themes and Plugins. Customizing your browser has never been easier!
- HD Video: Watch hardware-accelerated, super-smooth, HD-quality HTML5 video on YouTube using the new WebM format.
- Privacy improvements: Mozilla always puts privacy first, and this latest beta fixes flaws in some Web standards that could expose your browser history.
- Crash Protection: Experience uninterrupted browsing (now available on all platforms) - when a plugin crashes or freezes, you can resume browsing by simply refreshing the page.
- Performance: We know that performance is important. In this version, we focused on improving responsiveness at start-up and during page loads. This is just the beginning for performance improvements in Firefox 4.
Firefox 4 also includes a number of under-the-hood enhancements to assist web developers with their projects. Finally, the new beta integrates a new Feedback Add-On that allows users to quickly send input back to Mozilla and to anonymously participate in Mozilla studies of web usage if they so choose.