Apple Seeing Continued Strong Mac Sales on Little Cannibalization by iPad, iPod Sales Remain Lower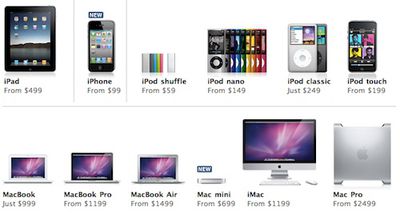 Silicon Alley Insider reports
that Piper Jaffray analyst Gene Munster has released a new research note looking at NPD's data for Mac and iPod sales for April and May. According to Munster, Apple is continuing to see strong growth of Mac sales ahead of analysts' expectations, with little cannibalization by the iPad seen so far. The iPod, however, is still underperforming relative to Wall Street expectations, although sales seem to have improved since an
earlier survey
covering only April's data.
Mac retail sales in the U.S. are up 37% year-over-year for the quarter through May, according to NPD Group data analyzed by Piper Jaffray's Gene Munster, who just published the new data in a note.
That's better than the 19% year-over-year growth (3.1 million units) the Street is predicting for the June quarter. So unless Mac sales hit a wall in June, Apple should have some Mac upside in the June quarter, plus all the benefit of the iPad.
The earlier survey covering only April had shown Mac sales up 39% year-over-year, with the new report adding in May data showing only a slight slip in overall growth for the quarter from the earlier data, but still nearly double that currently expected by Wall Street analysts.
The iPod line is a different story, however, as the maturing product line is being overtaken in sales and publicity by the iPhone as strong sales of the iPod touch are only just struggling to offset declines in the traditional iPod segment. NPD's new data shows a decline of about 13% year-over-year in the iPod line, roughly in line with Wall Street expectations of sales of 9-10 million for the quarter and slightly worse than Munster's prediction of a 9% decline. The 13% decline marks an improvement from the April data alone, however, which showed iPod sales down 17% year-over-year. Munster also notes the NPD's data, which tracks only U.S. sales, is less reliable for iPods than Macs due to the higher mix of international sales for iPods.