NPD Data: Strong Mac Sales in April, Some iPod Cannibalization by iPad?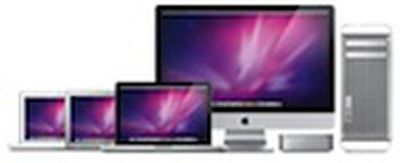 Fortune reports on a new research note from analyst Gene Munster at Piper Jaffray, who examined new April U.S. retail sales data for Apple from NPD and found very strong year-over-year Mac growth and a somewhat larger than predicted drop in iPod sales. The combination suggests that the iPad may be having more of a cannibalization effect on the iPod than on Macs, suggesting possible upside to Apple's financial performance as consumers are "upsold" to the iPad rather than holding back from Mac purchases.
"April NPD data gives us the first sign of the degree to which the iPad cannibalizes iPod or Mac sales," he writes. "From the early NPD data, it appears that the iPad has a minimal cannibalization impact on Mac sales, and could be slightly cannibalizing iPod sales. Given the ASP (4x) and margin profile of the iPad, we see this as a net positive for Apple's business."
As noted by All Things Digital, Munster's report suggests that the cannibalization of iPods rather than Macs is a direct result of Apple's positioning of the iPad and the capabilities offered by it. Munster says:
We believe in the long run Mac cannibalization will exist, but will be minimal. Apple has successfully limited the iPad functionality to primarily content consumption, vs. content creation on a Mac. And relative to the iPod, the physical size of an iPad provides a meaningfully different value proposition (portability vs. screen size).
NPD's data shows U.S. Mac sales up 39% year-over-year for the month of April, well ahead of the 19% consensus increase predicted by Wall Street analysts. According to Munster, that projects out to total sales of a strong 3.1-3.2 million Macs for the current quarter based on Apple's sales patterns.
The iPod, on the other hand, saw a 17% decline in unit sales year-over-year, significantly larger than the 9% decline predicted by the Street. Still, Apple may be on track to sell 9-10 million iPods this quarter, a healthy number given the impact of the iPad.
iPad cannibalization of other Apple product lines has been a focus for research analysts looking to understand the effect of the company's new device on its bottom line. Research from Morgan Stanley published earlier this month similarly showed a significant potential hit to the iPod, with 41% of surveyed customers planning to purchase an iPad saying they were doing so instead of purchasing an iPod touch. The same survey showed 24% and 14% of planned iPad customers holding off from buying Mac notebooks and desktops respectively, with another 20% (notebook) and 13% (desktop) forgoing non-Apple computers.