iPhone 4 Goes on Sale at AT&T Retail Stores and Online Today, Lines Start Forming (Again)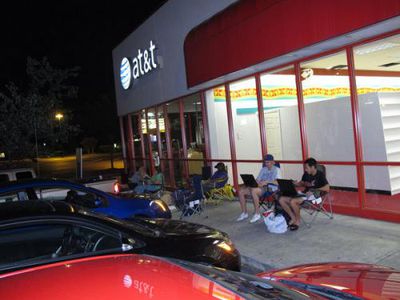 iPhone 4 line in Loganville, GA - photo by
ktasm
As
previously reported
, AT&T retail stores were unable to offer walk-in sales of the iPhone 4 until today (June 29th). Starting at 7am, customers should (theoretically) be able to walk into local retail AT&T stores to purchase the iPhone 4. Lines, however, have already started forming at AT&T stores across the country.
20 people
have been reported at one AT&T store in Las Vegas, and a
quick twitter search
shows more people waiting across the country.
If you aren't willing to wait in line (again), AT&T has also updated their website and is now offering online ordering.
Yesterday, Apple announced that over 1.7 million iPhone 4s sold in the first three days on sale, making it the most successful launch in Apple's history.
Update:

Jersey City, NJ - Newport Mall. 140 in line. Thanks Pratik.