Motorola 'Droid X' to Challenge iPhone 4's Retina Display? [Updated]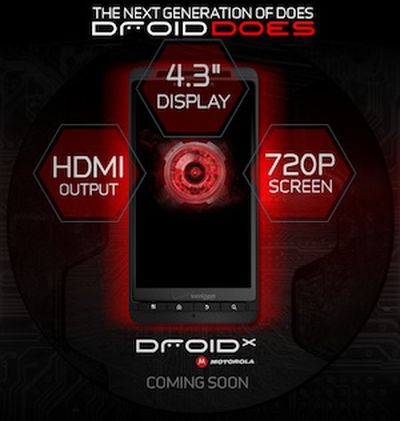 Verizon Wireless has posted a
teaser
for Motorola's forthcoming "Droid X" smartphone. Notably, the teaser claims that the device will feature a 4.3-inch display with a "720P Screen". The claim would appear to suggest that the Droid X's display might carry a resolution of 1280 x 720 pixels.
One of Apple's claimed breakthrough features for iPhone 4 is its "Retina display" running at 960 x 640 pixels at 326 pixels-per-inch, offering improved viewing by making individual pixels undistinguishable at typical viewing distances.
The Droid X's apparent larger pixel count coupled with its larger display size suggests that it could offer a nearly identical pixel size to Apple's iPhone 4, but with the ability to display more content on its larger surface area.
Apple CEO Steve Jobs claimed during iPhone 4's introduction last week that the device's Retina display would set the standard for smartphone displays for the next several years. Motorola appears to be moving quickly to counter Apple's technological leap, however, and while the full specs of the Droid X and its display aren't yet known, it at least attempts to meet or exceed one of iPhone 4's key marketing points.
Update: Engadget, which got its hands on the Droid X just a few days ago, has confirmed that the prototype it had access to carried only an 854 x 480 screen like the original Motorola Droid released last year. It remains to be seen whether the apparent claims on the Droid X teaser page are a mistake or marketing spin of some sort, or if there is a last-minute surprise coming from Motorola.
Update 2: Verizon has modified its Droid X teaser page, replacing the "720P Screen" text with "Captures 720p", indicating that the earlier version was an error.