More Details on Motorola Droid Surface [Updated]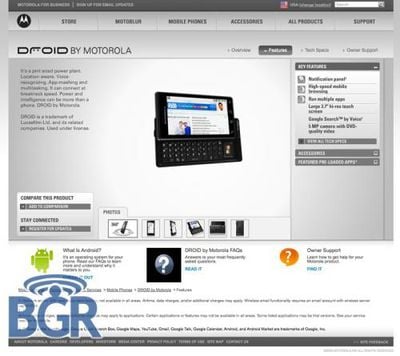 Earlier this week, Verizon began an
advertising campaign
for the forthcoming Motorola Droid, pitting the smartphone against Apple's iPhone. At the time,
Boy Genius Report
offered a brief report of its hands-on impressions of the device, calling it "
the
Android device to beat, and easily the most impressive."
Detailed specs on the Droid, however, were unavailable until product pages for the device apparently appeared prematurely on Motorola's site yesterday. According to the pages, the Droid offers the following notable features:
- 3.7-inch, 854 x 480 touch screen with a pixel density of 267 pixels per inch (ppi), compared to the 3.5-inch, 480 x 320 screen at 163 ppi on the iPhone 3GS.
- Overall device dimensions of 2.4 x 4.5 x 0.5 in, only marginally thicker than the iPhone's 2.4 x 4.5 x 0.48 in. The Droid weighs in at 6 ounces, slightly heftier than the iPhone 3GS at 4.8 ounces.
- 5-megapixel digital camera with image stabilization, autofocus, and dual LED flash, compared to the 3-megapixel autofocus camera found on the iPhone 3GS.
- WebKit-based browser compatible with HTML5 and with support for Flash 10 planned for 2010.
- 16 GB microSD card included, with support for up to 32 GB cards.
Boy Genius Report has also promised a full preview of the Droid for sometime today.
Update: Boy Genius Report has posted its Droid preview, which is full of details regarding the user experience. Overall, BGR is very impressed with the device.
The Motorola CLIQ was a pretty big disappointment for me personally, but oh man does the Droid make up for it. Sure, there's a little hype sprinkled in because this is the first Android 2.0 device I've had the pleasure of using, but once you move past the initial "wow" factor, the Droid really delivers.
BGR hesitates to pit the Droid directly against the iPhone, noting that the only true competitor for the iPhone is the next iPhone, but the Droid will certainly stand out in a growing smartphone segment with room for a number of significant players.
So will the Motorola Droid be successful? Absolutely, we think. It will eat in to BlackBerry sales, Windows Mobile sales, and positively murder any lingering Palm Pre sales. It's that good. Did you notice how Verizon still hasn't announced the BlackBerry Storm2?
We really enjoyed using the Motorola Droid and think you're going to love it. It's not as straight forward as an iPhone and a little more involved than a BlackBerry, but if you're up for the challenge, so is the Droid.