Steve Jobs Says Printing "Will Come" for iPad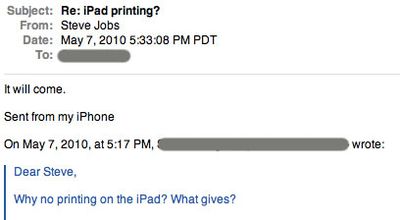 Since Steve Jobs has taken it upon himself to answer customer queries, he becomes a frequently cited source for what Apple is working on. According to one reader, Steve Jobs replied to an email asking why there are no printing capabilities on the iPad. Steve Jobs reportedly replied "It will come."
While these email replies can be difficult to authenticate, previous rumors have claimed that Apple is indeed working on printing to make the iPad more appealing to enterprise customers.