Next iPhone to Record 1280x720 HD Video?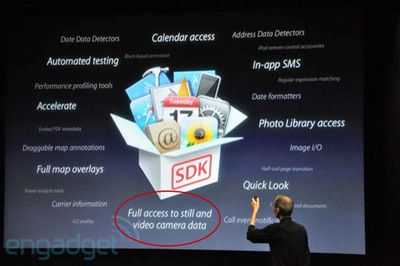 One of the many new features provided to developers in iPhone OS 4 are new APIs that give developers full access to Video capture data. This could open the door to some interesting apps including Video Capture/Editing and more robust Augmented Reality apps when iPhone OS 4 finally becomes available to the public.
The iPhone 4 Beta SDK, however, also reveals the ability to capture video at higher resolutions than the current standard 640x480 ("VGA") resolution. These preset values suggest that a future iPhone will be able to capture at 720p (1280x720) resolution:
AVCaptureSessionPreset640x480
AVCaptureSessionPreset1280x720
The next iPhone has been pegged to use a 5 Megapixel camera, though the video capabilities of the hardware are unknown. The next iPhone revision has been also rumored to be dubbed the "iPhone HD" which would fit well with this new 720p video recording capability.
Apple is expected to introduce the new iPhone at the Worldwide Developer's Conference which takes place between June 7-11th in San Francisco, CA.