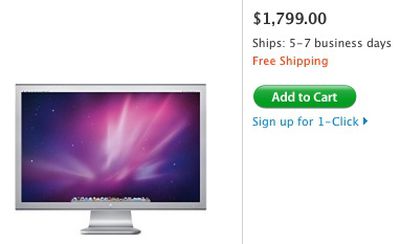 Over the weekend, one
MacRumors
reader noted that the shipping window for Apple's
30" Cinema Display HD
has slipped from its normal 24-hour timeframe to 5-7 business days. While slight variations in shipping windows routinely occur as supply and demand of certain items ebbs and flows, Apple has been
rumored
to be introducing a new 27-inch display by June, and thus sensitivities have been heightened for any sign that a release might be imminent.
Despite the release of the 24" LED Cinema Display in October 2008, Apple's 30" display has been around for nearly six years. Priced at $3299 at its June 2004 launch, the display saw several price cuts over the first few years on the market before landing at its current $1799 price point just over three years ago.
Apple's rumored 27-inch LED Cinema Display is claimed to carry the same 2560x1440 resolution of its new 27" iMac, compared to the 2560x1600 resolution of the existing 30" display. The design of the new display is also expected to be nearly identical to that of the 24" display released a year and a half ago.