iFixit Tears Down the New 15-Inch MacBook Pro, Finds Few Major Changes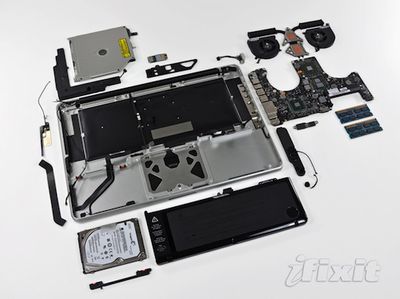 Exploded view of new 15" Core i5 MacBook Pro
iFixit yesterday
announced
that it had completed a
teardown
of Apple's new 15" Core i5 MacBook Pro released
earlier this week
. Unsurprisingly, the teardown reveals few significant changes to Apple's well-refined notebook computer, although it does show a number of minor tweaks that point to Apple's continuing evolution of its designs.

AirPort/Bluetooth card with antenna routed along optical drive opening
Among the changes are a redesign and repositioning of the AirPort/Bluetooth card to more closely match that of the MacBook, with the company also placing an antenna for the card along the frame of the optical drive slot to allow for better reception in the metal casing. The report notes that while the card design and placement is similar to that of the MacBook, the MacBook lacks the antenna placement found in the MacBook Pro, likely due to the plastic construction of its shell reducing the need for such an antenna.
Otherwise, iFixit notes a slight redesign to the speaker casing and the lack of heat sink contact for the chipset hub, as well as the slightly increased capacity of the battery, but otherwise finds the internals extremely similar to that of the previous-generation MacBook Pro.