Verizon Viewing iPad as Opportunity to Push MiFi Service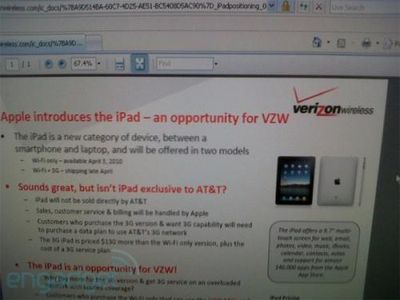 Engadget reports
on a leaked internal memo from Verizon to its staff members promoting Apple's iPad as an "opportunity" to sell its data plans, seeking to encourage customers to purchase a Wi-Fi iPad model and pair it with Verizon services such as
MiFi
to provide cellular data connectivity.
Verizon's proposal comes with a tradeoff for customers. The company cites the $130 premium carried by 3G-capable iPad models, an upfront cost unnecessary for those customers sticking with Wi-Fi models for use with Verizon's data plans. Alternatively, those customers could purchase a MiFi device for as little as $49.99 from Verizon, but that pricing requires a two-year data contract in comparison to the 3G-capable iPad's contract-free data plan pricing.
On the plus side for Verizon, its MiFi device, which taps into the carrier's cellular network to generate a local Wi-Fi network, can be used to provide access to any Wi-Fi enabled devices and up to five at the same time. Compared to AT&T's iPad service, which obviously is limited only to the iPad itself, Verizon's arrangement offers more flexibility for users who might also want to connect their notebook or other device such as an iPod touch to a network while on the go.
Verizon's MiFi proposal does require, however, that users carry a separate device in addition to their iPad. And on the pricing front, the two-year MiFi contract is priced at $39.99 per month for 250 MB of data or $59.99 per month for 5 GB of data, significantly higher that AT&T's contract-free iPad-only data plans priced at $14.99/250 MB or $29.99/unlimited per month. Consequently, Verizon's strategy seems to likely hold appeal primarily for those customers with multiple Wi-Fi devices requiring cellular data access.