Apple Planning to Open 25 Retail Stores in China [Updated]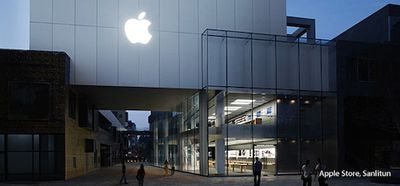 Apple is currently conducting its annual shareholders meeting on the company's campus in Cupertino, California, and while attendees were not permitted to bring communication devices into the meeting,
Fortune
is
gathering reports
from those in attendance who were able to get details out. Apple CEO Steve Jobs is in attendance and reportedly answering the majority of questions from shareholders after missing last year's meeting due to health issues related to a liver transplant.
In addition to expected agenda items such as re-election of members of Apple's Board of Directors and discussion of environmental and sustainability issues that have become a staple of Apple shareholder meetings, one brief item of interest coming out of the meeting is that Apple senior vice president of retail Ron Johnson noted that the company is planning to open 25 retail stores in China. The timeframe for the store opening of these stores is currently unknown, although more details may be forthcoming.
Apple opened its first Chinese retail store in Beijing in July 2008 ahead of the Olympic Games, and Johnson noted at the time that it was the "first of many" stores the company was planning to open there. A year and half later, however, that location remains Apple's sole Chinese retail store. Plans for a second store in Beijing surfaced in mid-2009, but the project has been put on hold, although Apple Chief Operating Officer Tim Cook briefly noted during his comments at a Goldman Sachs conference earlier this week that a store will be opening in Shanghai by this summer.
Update: CNBC's Jim Goldman reports that Johnson said that Apple is planning to open "up to 25" retail stores in China over the next 24 months.