Apple Retail Store News Roundup
Over the past few days, a number of items regarding Apple's retail stores have popped up, and we've collected some of them here for visibility and discussion.
- USA Today reported last week about Apple's plans for its retail stores, revealing that Apple is planning to remodel 100 of its existing stores this year, in addition to the 25 new stores under development. Renovated stores will offer 50% more Genius Bar space and twice as much room for displaying products.
- The New York Post reported in a piece on New York City's Fifth Avenue shopping district that Apple's flagship store on the street was promoted by the building's owner as recording a staggering $440 million per year in sales. As Daring Fireball's John Gruber points out, the number is approximately one-third that of Palm's 2008 revenue for the entire company.
- ifoAppleStore points to the online portfolio of architect Ben Wood, which features a dramatic design for what is reported to be a new Apple retail store for Beijing, China. ifoAppleStore's sources report that construction is already underway at an unspecified location on Qianmen Street with a grand opening scheduled for later this year.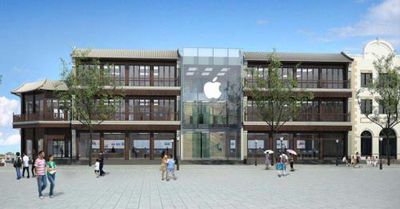 - Apple will be holding a grand opening this Saturday for a new retail store in Roseville, California, a major shopping hub in the Sacramento area. The new store will be located in the Westfield Galleria at Roseville, which is in the midst of a major expansion project.