Android Gaining Momentum Among Future Smartphone Buyers
New survey data released today by ChangeWave Research indicates that Google's Android smartphone operating system has been rapidly gaining momentum over the past few months as the release of the Motorola Droid and the hype around the Google Nexus One have brought Android considerable publicity. In particular, the survey found that 21% of customers planning to purchase a new smartphone in the next 90 days would prefer Android, up from just 6% only three months ago. That performance puts Android within striking distance of Apple, which is reportedly preferred by 28% of future purchasers, down from 32% in the earlier survey.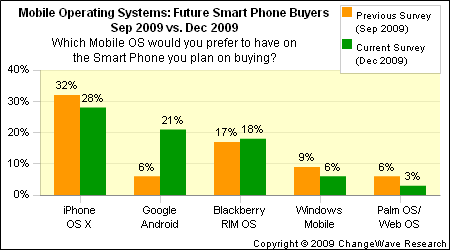 Customer satisfaction ratings have also shown Android approaching Apple's typically strong performance, finding 72% of Android users "very satisfied" with their phone, while the iPhone checks in at 77% according to the same metric.

When breaking Android's performance down by handset manufacturers, the report sees the strength of the Droid line, which boosted Motorola's share of planned purchases over the next 90 days from 1% to 13% between the September and December surveys. On the other hand, market leaders Apple and Research in Motion saw slight declines, while interest in Palm's offerings plunged by 50%.

While some degradation of Apple's "mindshare" could be expected at the midpoint of its release cycle with the iPhone 3GS having been available for six months now and anticipation of the next-generation iPhone not yet ramping up, Android is certainly showing itself to be a growing force to be reckoned with in the smartphone market.